Interview with Diane Dubas
Hey! Today we're hosting Diane Dubas, a fellow Canadian writer, from Ontario. Diane's story, The Witch's Son, captured our imagination with its beautiful prose. I'm super happy to have her on the blog today, so thanks for answering the questions!
1. What inspired your short story? Where did the idea come from?
I was really enamoured with the idea of a male descendant of a witch, so I'd been thinking of writing something involving "The Witch's Son" for a while. When this submission call came up, I started thinking about who I would be following through this solarpunk world and how dragons fit in. The whole concept of solarpunk and moving toward a sustainable future had me thinking about returning to our roots of living off the earth. In a lot of fantasy worlds, dragons were a thing of the distant past; a creature that had lived in harmony with the planet until it was forced to move on due to the actions of humans. So, in a world where sustainability is key, I thought 'who better to lead us than a male descendant of a witch with a dragon in his pocket?' Then I let him run wild and after many false starts, he took me through the weaving alleyways of a solarpunk city to a forbidden place and everything else just fell into place.
2. Had you heard of solarpunk before this call for submission? What do you like about the genre?
I had not! The idea of an optimistic future outlook with an art deco aesthetic and deep roots in sustainability really appealed to me. Solarpunk is a fresh viewpoint on would could be. Too often we recognize how technology could be our downfall and we don't stop to consider the kinds of technology that could help us survive. I like the hope that solarpunk represents. It's an angle that isn't often explored when writing about the near-future.
3. What genre do you usually write in? Talk about your projects!
I tend to write within the spectrums of science fiction and fantasy with a preference toward magical realism and urban fantasy. That's not to say I haven't explored other genres of writing as well, but those tend to be the usual suspects. I also have a thing for really, really tragic romances. Right now I have a couple of in-progress novels and several short story ideas on the go. I'm just trying to write as often and as much as I can!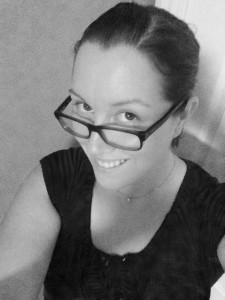 4. What do you love the most about dragons?
I really enjoy the sense of ancient magic that dragons represent. They are old and unfathomable; they are wise and have powerful magic. I know this isn't always the take that artists have on dragons, but I guess it's mine. I feel like somewhere, in the heart of a great mountain, the dragons are waiting for us to smarten up so they can share their wealth of knowledge and magic with us. (And that's the fantasy writer in me escaping into the light!)
5. What do you do when you're not writing? Any day jobs or passion?
I…spend too much time on the internet and watching TV. More seriously, I wonder if I'm ever not writing. There's always ideas running through my head or plot points popping out of thin air. When I'm not writing, I'm thinking about writing. It's a serious affliction. Passions? Petting cats? 😉
6. What's your favorite book or TV show? Why?
Oh, so many. My absolute favourite books are Pride and Prejudice by Jane Austen and Alice in Wonderland by Lewis Carroll (kind of a strange combo, I know). Pride and Prejudice led me down the garden path of character dramas and taught me that you can tell a story based mostly on character and circumstance. Alice in Wonderland taught me to dream and then keep dreaming, and maybe dream within your dream, too.
Ooh, another book worth mentioning is The Ordinary Princess by M. M. Kaye. It was a powerful book for a young girl to read and one with an important message that really stuck with me. Be yourself. Even princesses can be ordinary and that's okay.
My favourite TV show is a moving target. It really depends. Right now I am overtly fond of Orphan Black and The Blacklist, while also watching things like Adventure Time and Gravity Falls.
7. Where can we find more of your work?
My story "Unraveled Hearts" was published in Volume 6: Love Issue of Inaccurate Realities, a speculative fiction magazine aimed at young adults. I have also had a piece of flash fiction, "Fame", recently published in Saturday Night Reader. I'm new to this publishing thing, so that's it for now!
And of course, I'm on Twitter and Facebook.
~~~
Thanks for the interview Diane! 😀