Editor Interview with Brenda J. Pierson
Back for our second week dedicated to editing Wings of Renewal. This one, though, we're returning to interviews — only it's Brenda's and mine. We both have a story in the anthology, too, so we wanted to answer the questions, with a bonus one about the editing!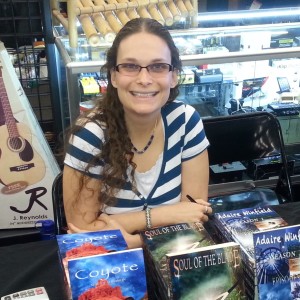 1. What inspired your short story? Where did the idea come from?
I had a completely different idea for a story to start out with, and I knew it would be set in the desert—one because of the content, but two because I'm a native of Arizona so deserts are things near and dear to me. I started researching technology for sustainable living in deserts and came across a bug that condenses water from the atmosphere. That concept stuck with me until the irrigation dragons were born. After that they kind of took over the entire story, so I ended up abandoning my original idea and pursuing these dragons instead. I have to say, I sure am happy I did.
2. This is the first time you edited an anthology. Want to share some of your thoughts on the experience?
This has been a crazy ride! It's been amazing to watch other people get as excited about our ideas as we are, and the response we got was astounding. Choosing the stories to include was a roller coaster of excitement and heartbreak, and sending out rejections to the stories we couldn't take was so hard it nearly put me in tears. But overall it's been an amazing experience. I've met so many wonderful people, and been so impressed by these writers they're pretty much all on my watch-for-new-releases list.
3. Had you heard of solarpunk before this call for submission? What do you like about the genre?
Well, like many of our other writers I'd heard of solarpunk from Claudie. I love that it's so hopeful, that it gives us writers an outlet to show that there are better ways of treating others—better ways of living—than what we think is possible. And as a reader, I can only take so much dystopian post-apo before I want something that shows humanity is better than struggling for petty gain. I'd like to think we can change things for the better by writing about these kind of subjects.
4. What genre do you usually write in? Talk about your projects!
I'm an epic fantasy girl. I love magic and monsters and sword fights and quests to save the world. My currently released novels, Soul of the Blade and No Hill Without Treasure, are both this kind of fantasy adventure. I'm also working on a new novel called Joythief, a Persian-inspired fantasy world with a poison that kills the part of a person they love the most. My protagonist is a princess-turned-thief who has to fight to preserve magic and save the world while losing her skills and identity as a thief.
5. What do you love the most about dragons?
I love how many different variations there are, beyond the typical fire and ice and whatever. They're fierce antagonists, kidnappers of princesses and hoarders of gold, or ancient, wise leaders, or adorable pets you just want to cuddle. I love that they can be unexpected, or exactly what we all know and love, and they're always amazing.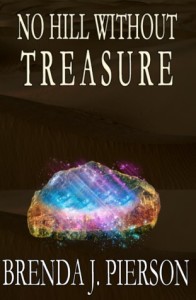 6. What do you do when you're not writing? Any day jobs or passion?
For my day job I'm the senior editor at IPB, so I spend most of my days checking for typos and critiquing stories. When it comes time for hobbies, though, I'm an epic nerd. I'm a huge bookworm but also a gamer, so if my nose isn't shoved in a book I'm probably lost in a fantasy RPG like Elder Scrolls, Final Fantasy, or Dragon Age. I also play Magic: the Gathering which pushes my nerd quotient pretty darn high. I do have normal hobbies, though, like hiking and camping. And I have my little old lady hobby of crocheting. I love making baby blankets for my friends.
7. What's your favorite book or TV show? Why?
You can't just ask me about one favorite book! That's like choosing between children. Who wrote these interview questions anyway? *awkward silence*
One of my all-time favorite books is The Demon Awakens by R.A. Salvatore. It's the best fantasy adventure out there. I can't finish an interview without mentioning Brandon Sanderson, especially Mistborn, which is one of the most breathtaking novels in existence. Plus there's Sir Terry Pratchett who is my go-to man for when I need a book I'm going to adore.
When it comes to TV, I either can't stand watching it or I'm so obsessed with a show I want to do nothing else. I adore Doctor Who, BBC's Sherlock, Firefly, and The Big Bang Theory, maybe a handful of others, but other than that I'd rather not watch TV at all.
8. Where can we find more of your work?
My novels are available at www.amazon.com/author/brendajpierson. I post occasional snippets of my Joythief progress on Twitter (https://twitter.com/AuthorBJPierson) and Facebook (https://www.facebook.com/Author.Brenda.J.Pierson), too.