Cover Reveal: DIFFERENT WORLDS, from Lyssa Chiavari
Sit tight, everyone, because I have something amazing today. And exclusive, which feels like such an honour, because Lyssa is one of my favourite writer in the whole damn world (as an author and as a person). And this cover reveal we're having? Is for a novella, Different Worlds, which stars my favourite Fourth World character, Henry! (he even shares Viral Airwaves' main character's name!) Mark your calendars for September 20. It cannot get here fast enough.
But before we get to the cover, Lyssa is here to give us some insight into the cover design, made by the great Najla Qamber!
---
Like the title suggests, Different Worlds is a different sort of book than my first novel, Fourth World, was. For one thing, though it's set in the same universe, it features two totally different narrators than the main series: Henry and Tamara, two secondary characters from the first book. For another thing, the tone of the book is also different – it's a lot darker than the rest of the series. And while Fourth World felt big in scope, with a mystery that spanned two worlds and two times, Different Worlds narrows the focus tightly on Tierra Nueva and the people Isaak left behind when he passed through the time postern.
So for the cover of Different Worlds, I wanted something that showed what Mars looks like from the ground, rather than the stars-and-planet theme of the main series covers. I wanted to really visualize Tierra Nueva, from the factory district to the skyscrapers of Sparta Island. It had to fit with the rest of the series, but also have its own unique look, something to reflect this weird book that's both inside and outside the main trilogy, kind of an author's fanfiction in her own canon.
And I also wanted it to be special, because this is the story that I've been wanting to tell for three years. I came up with the seed of it so long ago that I can't even remember at what point it started. It feels like it was always there. I have scenes that I wrote for this book long before Fourth World looked anything like it ended up, because even when I wasn't entirely sure where Isaak's story was supposed to go, I always knew where Henry's was. Every moment I struggled with Fourth World I got through because I knew I needed to get to this story, so I wanted a cover that would reflect its importance to me.
And when Najla sent me her preliminary design for this cover, I cried. Because she NAILED it. It's so much more beautiful than I ever could have imagined. It holds so much symbolism for the story. I love the details: the beautiful, glistening sci-fi look of Sparta Island on the front cover juxtaposed against the rundown apartment buildings on the back; Tamara in the light and Henry in the shadows; the two moons overhead. Everything is absolutely perfect!
I'm very excited to share Different Worlds with you when it releases this fall. I hope you'll love it as much as I do!
---
Am I thrilled, you ask? You have no idea. So, here goes. And drum rolls for DIFFERENT WORLDS' gorgeous cover!!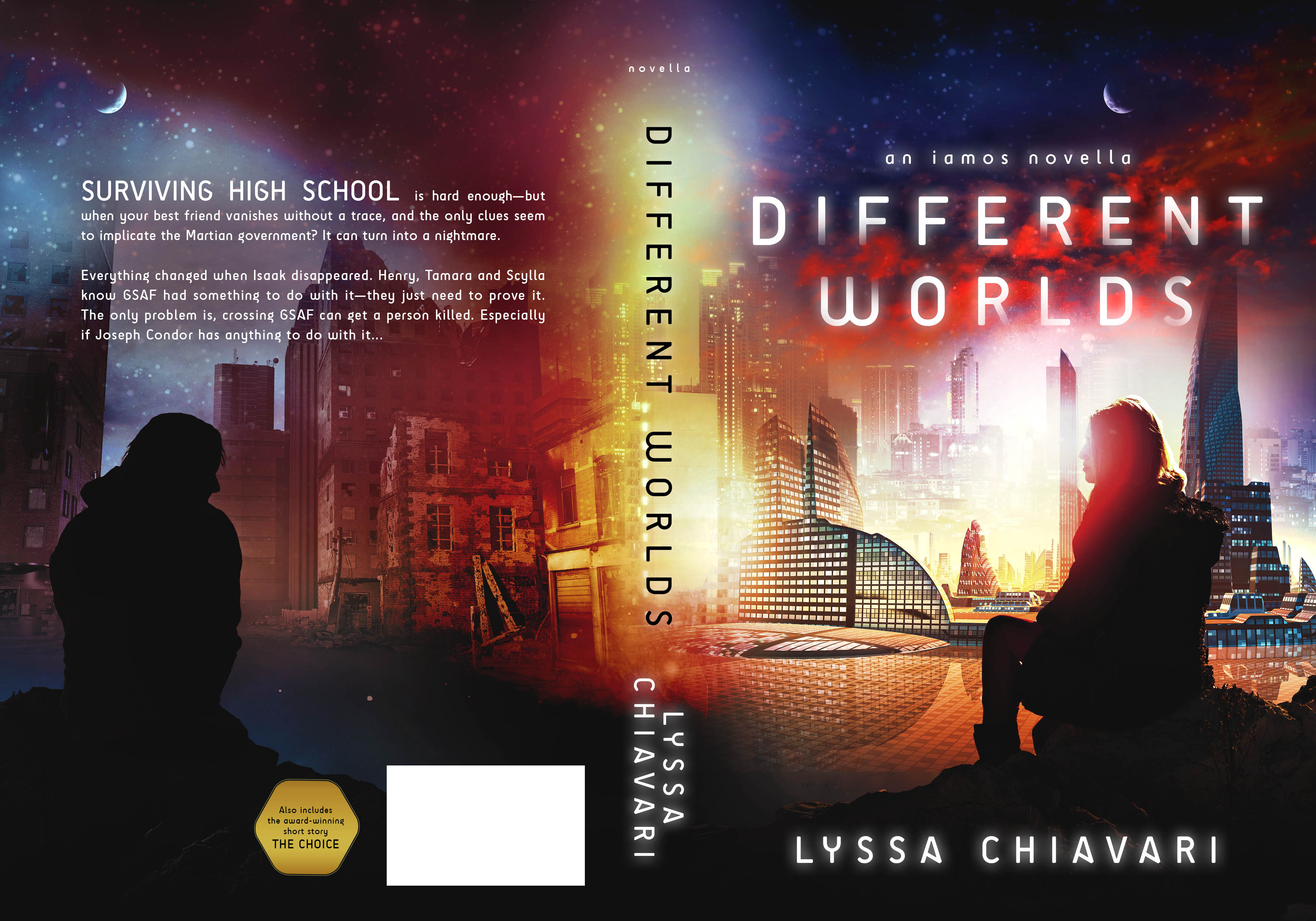 So? Sooo? Are you excited yet??
Then you should do three things! First, add it on Goodreads right now! Second, we have an international giveaway for you! This is your chance to win Fourth World, which I have been recommanding left and right since December. Amazing sci-fi, compelling intrigue, mars archeology, and ace leads!! What's not to love? Hop in the Rafflecopter!
Third? If you preorder the Different Worlds paperback, you get a free copy of the ebook and two free postcards, one with a full panoramic view of the cover art and the other with artwork of Iamos on one side and a map of Tierra Nueva on the other.
And if you want to know more about Lyssa, check out her website!
So there you go. Better click all those links! 🙂